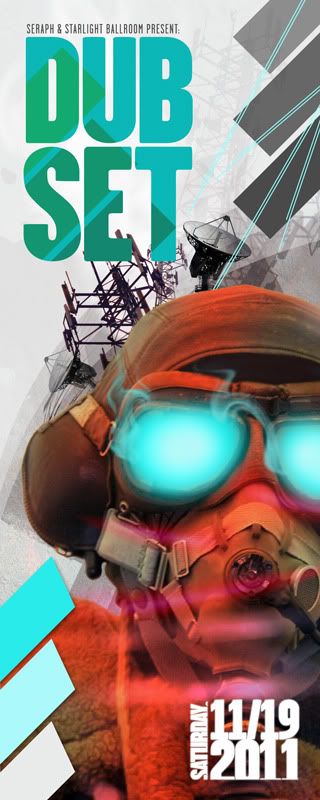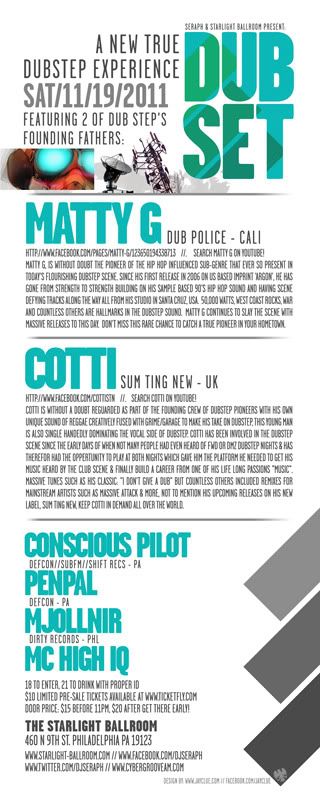 Saturday November 19th 2011
Seraph & Starlight Ballroom present:
"DUB SET"
A new true Dubstep Experience
featuring:
2 of Dub Step's Founding Fathers:
MATTY G - Dub Police - UK
http://www.facebook.com/pages/Matty-G/123650194338713
Search Matty G on Youtube!
Matty G, is without doubt the pioneer of the hip hop influenced sub-genre that ever so present in today's flourishing dubstep scene. Since his first release in 2006 on US based imprint 'Argon', he has gone from strength to strength building on his sample based 90's hip hop sound and having scene defying tracks along the way all from his studio in Santa Cruz, USA. 50,000 Watts, West Coast Rocks, War and countless others are Hallmarks in the Dubstep sound. Matty G continues to slay the scene with massive releases to this day. Don't miss this rare chance to catch a true pioneer in your hometown.
COTTI - Sum Ting New - UK
http://www.facebook.com/cottistn
Search Cotti on Youtube!
Cotti is without a doubt reguarded as part of the founding crew of Dubstep pioneers with his own unique sound of Reggae creatively fused with Grime/Garage to make his take on Dubstep, this young man is also single handedly dominating the vocal side of Dubstep.
Cotti has been involved in the Dubstep scene since the early days of when not many people had even heard of FWD or DMZ Dubstep nights & has therefor
had the oppertunity to play at both nights which gave him the platform he needed to get his music heard by the club scene & finally build a career from one of his life long passions "Music". Massive tunes such as his classic: "I don't give a dub" but countless others included remixes for mainstream artists such as Massive Attack & more, not to mention his upcoming releases on his new label, Sum Ting New, keep Cotti in demand all over the world.
CONSCIOUS PILOT
- Defcon//SubFM//Shift Recs - PA
http://soundcloud.com/consciouspilotdubstep
PENPAL
- Defcon - PA
MJOLLNIR
- Dirty Records - PHL
IQMC
on the mic duties all night!
18 to enter, 21 to drink with proper ID
$10 limited pre-sale tickets available here
http://www.ticketfly.com/event/72071/
(GET EM WHILE YA CAN! THEY WON'T LAST!)
$15 on the door until 11pm, $20 after!
The Starlight Ballroom
460 N 9th St
Philadelphia PA 19123
http://www.Starlight-Ballroom.com
//
http://www.facebook.com/DJSERAPH
//
http://www.twitter.com/DJSERAPH
http://www.CyberGrooveAM.com